Content of this post started from this picture which came about just as I was wondering if I should get back to facebook or not, or not just yet…
Just one late addition: i just found the image funny, please don't assume if I'm identifying with that or not, if I believe in karma or not or fate or not, destiny, what ever else. You'd be just assuming whatever you'd be assuming and this is just not the time to go into that.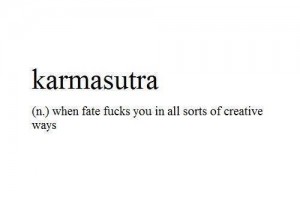 Not sure which one is more jail-like (with or without Facebook).

Seems a bit more isolated without facebook, but then with Facebook it seems a bit more isolated in an virtual ego.

The past will be known as pre-facebook era and we are living in the facebook-era and the post-facebook era is what the mayans are foreseeing as the end of the world (again)… as they have reached the edge of their round stone.

Those who will not adapt will parish, their genes will be forgotten.
That's ok, some are part of another species that will also survive, the googleolians.
Although their future is uncertain in the facebook era, their karmasutra is also strong.

Now, now, there will always also be the twitterites but they tent to stay close to one of the protecting clans of facebookolials or googleolians.

Other such species like linkedinonites and flickronites are starting to display similar adaptive behaviour.

While other, smaller ones like intstagramalites have been swallowed whole by the facebookolians which went "mnom, mnom".

There are still very few, what they call, free spirits – that live by the forest and have no knowledge of the changes that came upon their brothers and sisters which to whom they seem very peculiar indeed, as for them the lingering rain and muddy lands are just as pleasant as the last sun-rays that slowly disappear from blue to red, dazzling trough the tree branches and beneath the mountain line before the stars start to light the horizon brighter and brighter.